PLASTIC AND AESTHETIC SURGERY
ARM LIFT AND REDUCTION in Paris
ARM LIFT AND REDUCTION in Paris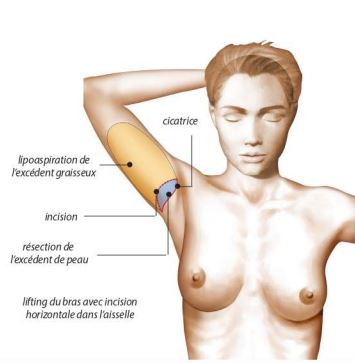 Reduces fat and/or skin excess form the arms.
PROCEDURE

fat arm deposits with good quality skin tone can be removed by liposuction only. When skin redundancy is present, arm circumference reduction is done by arm lift surgery (brachioplasty), depending on the grade of skin redundancy and skin laxity incisions are placed in an axillar crease and in the internal aspect of the arm, from the axilla to the elbow.
good and long lasting results can be achieved with both techniques.
local with sedation or general anaesthesia.
ambulatory procedure, if needed an overnight stay can be possible.
seven to ten days. A compression garment or elastic bandage will be needed for 3-4 months to help to reduce swelling and to give you comfort after the procedure.
Keeping the arms slightly above the heart level will help the first 24-48 hours to reduce swelling. You are allowed to shower after surgery. Incision needs to be kept clean and dry. If needed ultrasound and lymphatic drainage sessions will be organised to speed up recovery and to improve even more the surgical result.
begin to be seen immediately after surgery, after three to four months contour improvement can be more noticeable. Scars will begin to fade out after five to six months.
oedema or arm lymphedema can result. High visible scars or bad scarring as keloid scars is possible. Transitory skin sensibility changes are possible.